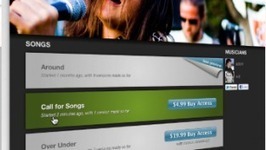 Merge.fm (no affiliation with Merge Records) lets fans subscribe to an artist to see progress that is posted, whether it's raw tracks, video clips, or drafts of song lyrics. It's an interactive event surrounding a song in progress. Fans can interact with the creative process, comment, and provide feedback on ideas in the works, as bands set the price for each interaction, keeping 85 percent of the resulting revenue.
MizWalidah's Insight: This site has been live since 2010 but is still not known by artists. It also has little under 100 twitter followers. Either they have an incompetent team or artists are not gravitating to it for some reason. But really good idea, unfortunately gone south.
See on evolver.fm  more Rule4081 on main Rule4081 Scoopit feed.